Web designing courses are always a high-demand course among all other courses. After the COVID-19 situation, most of the businesses come online and they need a website in an obvious manner.
So it is undoubtedly said that after covid-19 situations the importance of a website is not only increasing, increasing drastically.
After analyzing the present situations the current requirements of web designers in the IT industries it is very essentials to learn web design from any professional institute.
Now here is the list of the top 9 web designing courses in Kolkata:
Karmick Solutions:
Karmick Solutions is one of the old and reputed companies in the IT industry. Apart from IT services they also provide courses based on the IT industries. The minimum eligibility criteria for their courses 10+2 pass. The course duration is 3 months. They are providing online and offline classes both. Their course fee as of today (18.03.21) is Rs.12,000/-.
Now coming to the course content they have 7 modules included in these web design courses.
Bharati Technologies:
Bharati Technologies is one of the leading digital marketing service providers in Kolkata. Apart from digital marketing they also provide all types of web-related services. Nowadays they are providing web design courses.
The course duration is 3 months. The eligibility criteria for this course class 10th pass out. The course fees are Rs. 10,000/-.
They have detailed course material. After doing this course anyone can apply for any professional web design job or they may start their own freelancing business.
If anybody starts their own freelancing business Bharati Technologies will help them. So go and see their detailed course materials.
PHP Kolkata :
They are a very renowned and old training institute in Kolkata. Previously they provide only PHP training. Nowadays they also provide web design courses. Their course highlighted responsive web design features, affordable and full job assistance features. But course duration, course fees, minimum eligibility criteria are not mentioned on their website. So go to their website and call them about the rest of the information.
Acesoftech Academy:
Acesoft institute provides web design courses. The institute is situated in Topsia of Kolkata. The duration of this course is 5 months. Like many other institutes, they are providing online, offline, and weekend classes. The course fee is not mentioned on their website. Their course modules include – basic Html, css2, photoshop, using text editor, Corel draw, javascript, jquery, html5, css3, responsive website, and lots more.
W3Web School:
This is another reputed institute for a web design course. They are providing training by real-time experts. After the completion of the course, they provide certificates. The candidate also participates in their live project session. They claim that their course is very affordable. They also provide placement assistance after successful completion of the course.
SK Web World:
This institute is certified by MSME (Ministry of Micro, Small, and Medium Enterprises) and ISO 9001. They are providing 3 classes in a week plus they will provide a doubt clearance class. They will also provide a 100% practical class from the beginning of the course. The course fee is Rs. 14,000/- for 4 months as of today (18.03.21). The eligibility criteria for this course is a 10+2 pass out.
EJobIndia:
They have 7 modules in their course. The course duration is 4 months. Their course fee is around Rs. 12,500/-. They are providing online and offline classes. They will also help their students with placement assistant. They are in this industry since 2005. This institute is situated in Salt Lake in Kolkata.
AWTIM:
If you looking for a web design course with an internship then you can go with the AWTIM (Academy of Web Technologies & Information Management) course. The course duration is 5 months. The admission criteria are 10+2 (Graduation preferable). Other criteria are they will provide a 1-month research-based internship. They have 12 modules in this course.
Web Training Room:
Their course has unique features. They providing '10 hours in 10 days course'. They have 8 modules in their course. The modules include basic, CSS, jquery, and many other interesting facts.
After reading the article you have got a clear picture of web design courses. Now the common question that comes to your mind is –
This depends on the institute. But on average, most of the institutes charged Rs.10,000/- approx. Most of the courses last for at least 3 months. So it is easily guessed that the course fee is around Rs.10,000/- or more.
Now the next question may be is –
Can I do a web designing course after the 10th class?
The answer is YES. You can start learning web design after the 10th Class. But it is advisable if you complete your graduation then it will be good for future career prospects. Most of the big company looking for candidates at least complete with a Graduation degree.
What is the syllabus of the web designing course?
The syllabus varies from institute to institute. But the basic syllabus is:
Basic of Internet
Basics of Web Designing
Photoshop
XHTML
CSS
Javascript/Jquery
Bootstrap
Responsive Design Layout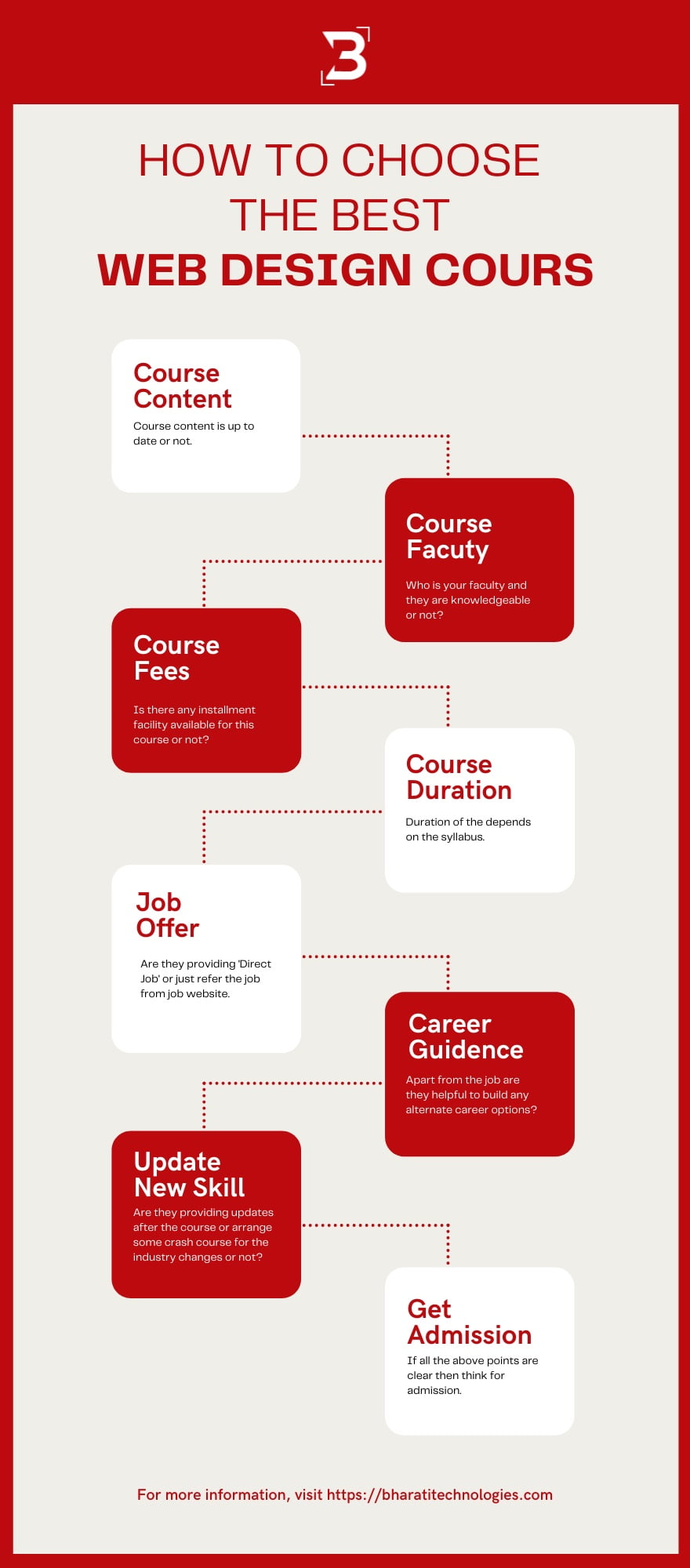 Things to consider when selecting a web design course?
When selecting any web design industry consider the following:
Course Fees- Is this course fee is affordable or not. Do they provide an installment facility?
Course Syllabus- Are their course is really trendy or not? All latest technology changes related to web design mention in this course or not.
Course Duration- Considering their syllabus are they complete the course in time. Is the duration is really worth it or not?
Placement- Are they providing genuine placement or not. Some institutes provide placement but surprisingly the placement should not lasting at all. So if they provide placement depending on the job website rather than their own source.
Career Prospects – Except job what kind of other career opportunities they are providing. Do they really help you to establish your career as a freelancer? After the completion of the course what type of supports they are providing.
Course Mode – Are they providing offline as well as online classes. Are they also providing weekend classes and doubt clearance classes or not.
Which is the best institute to learn web design and development in Kolkata?
Before coming to any conclusion about the best institute to learn web design and development in Kolkata, the following points should consider first:
What are the course structure?
Take a detail to overlook about the web design courses and must come to know that whether the course is up to date and trendy or not. How you can know this? Just go to any job website and find what type of requirements they want from a candidate. Then compare the course structure with this job requirement and come to the conclusion. Because time and money are both very important factors today. So you have to spend it wisely to choose the best courses according to your need.
2. Who are the faculty member?
If the above requirements meet then try to know who are the faculty for these courses. In the case of many courses, it is not possible to find the faculty knowledge. If you select any faculty by following their youtube channel or udemy course then it is much easier to convince them about their knowledge and efficiency.
3. Does the 'Demo Class' really worth it?
It depends. If you are admitted to any large-scale institute then after getting admission to this course you may find the same faculty is not taking the classes for any internal reason. It totally depends on the institute and in true some extent in your luck.
Can I start web designing courses at free of cost?
YES. You can watch this video or follow this channel to start learning web design free of cost.
Conclusion: After reading this article you must get a clear overview of what is website design courses, web design course fees, the top institute in web design courses, and the things to consider when selecting web design courses.