Are you looking for website design services for your business? You find out lots of web design packages present in Google search results. Suppose you are confused about choosing the best one for your business, then in this guide, I will give you a total overview of how you can choose the best web design packages for your business.
There are lots of things you should consider before choosing the best web design packages. Let's discuss it one by one.
Best Web Design Packages for choosing a Domain:
Do you own a domain? If you start your online journey and want to register your business online, you need a good domain name.
A domain is like your postal business address. In this internet world, if anyone types your domain name with some extension like .com, .in, or .co, the person will land on your website.
If you want to start your online journey, a good domain is very much essential.
I always suggest you purchase a domain name with TLD. That means top-level domain extension, i.e .com. If you are running your business in a particular locality or country, you may purchase a country-based domain extension. But it is always advisable to purchase a domain name with a top-level domain extension.
Now coming to the web design packages, many companies offer domain names.
Generally, they offer the domain name for one year.
But if you want to continue your business year after year, you may book the domain name for more than one year, and the cost will be cheaper than a one-year purchase.
Hosting
Hosting like your shop. If a domain name is like your business address, then hosting should consider your shop where all the files should be stored.
If you have already cleared your idea about hosting, then like above, I recommend purchasing the hosting for more than one year.
Now the question arises of which hosting is good for you.
If you are a newbie and have a lower budget, you can book a hostinger for startup purposes.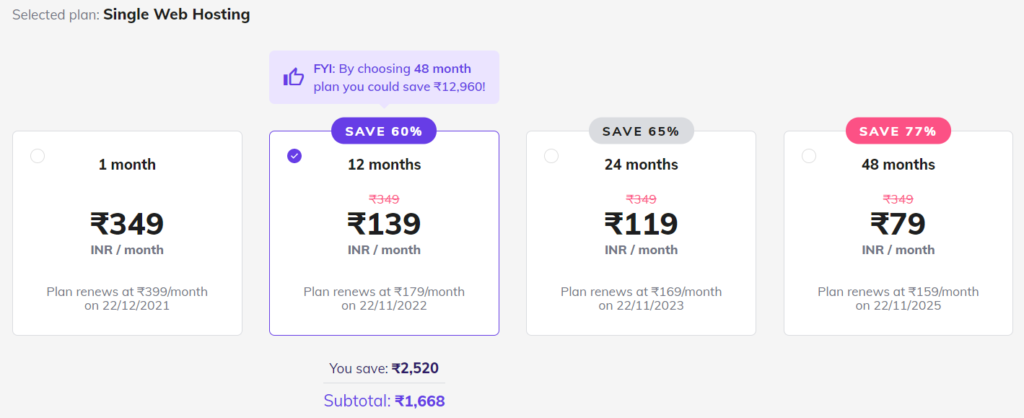 Nowadays, hostinger offers a black Friday sale. If you are from India, then you will avail 77% discount on hosting plans and get the hosting only for ₹79/mo. You should remember before choosing the packages is ₹79/mo will be applicable if you purchase the hosting for two years. Otherwise, if you want to purchase hosting for one year, you must pay ₹139/mo.
Number of Pages:
When you plan for a website, you need to tell more words to your visitors about your business. Because most unknown person visits your website, so tell them in detail about your business, where you are located, how many years you have been doing this business, what other clients are telling about your business, and what type of services or products you offer to your clients, and so on.
So from the above points, it has been clear you need multiple pages websites. If you are running a service-based business, then you need the following pages:
Home
About Us
Services
Testimonials
Contact
Blog
The blog page is used for SEO purposes.
You may hear the word 'one-page website' or single-page website where all the above pages are present on a single page. But there are too many disadvantages to creating such a website.
You must read the article 'Best One Page Website Guide for Beginners in 2021' for more information about this one-page concept.
If you are running a product-based business and you want to sell online, then you need the following pages:
Home
Product Listing
Product Details
Add to Cart
Checkout
About Us
Testimonials
Contact
Now from the above two lists, I hope it is clear to you how many pages you need to create a website.
If you still want to know more about website creation, then you must read this guide – How to create a website: 100% Achievable Guide.
Static vs. Dynamic Website:
There are two types of websites present in today's market. Static website and Dynamic website. 
A static website is a type of website where all the content and images are fixed, and you never change the images or content without the help of a coder/developer/designer. 
A dynamic website is a kind of website where all types of content and images can easily change or edit without the help of a technical person.
So it is undoubtedly said that a Dynamic website is always acceptable.
Don't go for any web design packages which offer static websites. Despite that, they charge will very little amount for such types.
Also, remember that if you order any dynamic website, it is the developer's responsibility to educate you on how to change the website content and images.
Theme or Custom Design:
If you are looking for web design packages, you must see that some packages offer WordPress themes, and some offer WordPress custom design.
WordPress Theme: WordPress is a vastly used content management system (CMS) platform. More than 90% of websites build with WordPress. WordPress theme is a predefined layout that can be available widely in internet markets places. Depending on the business types and packages, they offer various themes to you.
WordPress Custom Design: WordPress custom design is offered to clients who do not like the predefined theme or need a different attractive layout depending on their business.
Now the question arises which one suits better for you?
If you are running on a low budget, then you may go with a WordPress theme.
But if you have a good amount of money and want to spend it on your website and want to make it the best for your business, then you must go for a custom WordPress design.
If you create a website with a WordPress custom design, then it is a one-time investment. Another advantage of using WordPress custom design is you can make your design. There are no such constrain for making the website layout.
SSL Certificate:
SSL Certificate is a secured certificate installed in your hosting server. It will protect your website from various types of malicious activities.
When you purchase hosting, then check out whether they are offering a Free SSL Certificate or not.
Choose hosting providers who offer you a free SSL certificate.
When your business grows, then you can purchase any well-paid SSL certificates also.
For this purpose, I recommend hosting. They offer you free SSL certificates with lots of other attractive features.
Content & SEO:
Content plays a very, very important part in today's online marketing. If you want to see your website in Google search against some specific terms, you should care about your website content.
You may have 'About Us content. But if you want to rank your website on Google, then you need proper keyword research and write the content according to that. 
From the home page to the services page, you need SEO-optimized content. 
So when you are looking for the best web design packages for your business, choose an agency that will properly guide you regarding this point.
Pro Tips: Use seo optimized content from day one of your website.
Others Features:
Your website should include the following features also:
Contact Form on Contact Us page
Chat Functionality
Google Maps
Fully accessible admin panel
Video tutorial for you to upload content or images.
Website properly secured.
My suggestion is that purchase the domain and hosting separately from any renowned hosting providers. The benefits of choosing separate hosting providers are:
You will get 24/7 support from them.
They will give you a separate bill for domain & hosting.
You can get control over your domain and hostings.
If you feel any difficulties with a web development agency, then easily change the agency and your domain; hosting will not suffer from this.
Now before choosing the best web design packages for your business, here are the checklist you should be aware of:
How many pages will they give you?
Do they offer custom design or theme-based design?
After the project completion, will they give you full access to your website?
Do they helpful for solving your queries or difficulties?
Do they provide you with project estimation?
Do they give you a detailed bill voucher?
If answers to the above question are affirmative, then go with that agency.
Remember that you may create a website one time, but you have to update the website for the whole year. So choose the web design packages wisely.
Conclusion: Choosing the best web design packages nowadays is not only tough but also the toughest job. So don't look for any cheap or low-cost web design packages; rather, look for some best web design packages for your business that can help you a lot from day one of your website until the achievable stage of your website.
Senior UX Designer and Google Certified Digital Marketer. Started my career as a full-time employee in different reputed companies and later established my own brand Bharati Technologies.