Today Freelancing is a lucrative source of income. Many people start freelancing as part of their active or passive source of income. Here are the name of these two sites come Upwork and Fiverr. Now the question arises of which platform is best for starting freelancing. Here in this article, I will discuss a comparative analysis of Upwork vs Fiverr which one is best for starting freelancers.
In this article, I am going to tell you a comparison study about Upwork vs Fiverr.
What is Upwork?
Upwork is a freelancing marketplace where lots of freelancing jobs were found.
There was a freelancing website named Elance that has been transforming into Odesk then Upwork come into place in the year 2015.
Upwork was founded by Beerud Sheth, Srini Anumolu, Sanjay Noronha, Odysseas Tsatalos, and Stratis Karamanlakis and the headquarter is in San Francisco, California, United States.
How does Upwork Work?
Upwork is a freelancing marketplace where mainly US & Uk related project has been posted.
If we analyze the traffic source of Upwork then we found that the main traffic source is the USA, then India.
Upwork charged 20% of the project value from the client and freelancer.
Apart from that, they offer a membership plan for freelancers. They also charged the client for a different type of membership plan.
How to bid on Upwork?
The steps are very simple.
Just create a profile. Then search the project according to your skill and post the bid proposal.
But there is some bidding limit.
What is Fiverr?
Fiverr is also a freelancing marketplace. It is established in 2010, in Tel Aviv-Yafo, Israel. The total number of freelancing on Fiverr is 830,000.
How do Fiverr works?
The freelancer creates a GIG or services. When the GIG will rank buyers or clients who buy the services and place the order.
Before moving forward here are some basic differences between Upwork vs Fiverr:
Account Creation: The account creation process is more or less. You need a Gmail id to create an account. Then after account creation, an email validation link will be sent to the respective email id and you have to validate this. After that create the account smoothly.
Upwork vs Fiverr – GIG Creation:
Fiverr offer you to create a GIG. Gig means where you describe the details of your services. In Fiverr you have to create up to 7 GIG or services related to your skill or niche. But Upwork there is no scope for such type of GIG creation.
Bid Proposal:
In Upwork, you have to bid on a project related to your skill. Upwork also shows you the best match and recent project. Getting the project is mostly depending on the bid proposal you have sent to your client. This facility is also not available on Fiverr.
Project Fees:
Upwork charge the following fees from freelancer:
$0-$500 in earnings from a client: 20% service fee applied to earnings
$500.01-$10,000 in earnings from a client: 10% service fee
$10,000.01 or more in earnings from a client: 5% service fee
In this manner Fiverr charge 20% from the freelancer.
Membership Plan:
Upwork has two types of membership plans. One is Free Plan and another one is a Plus which is charged $14.99 /month. The details are below: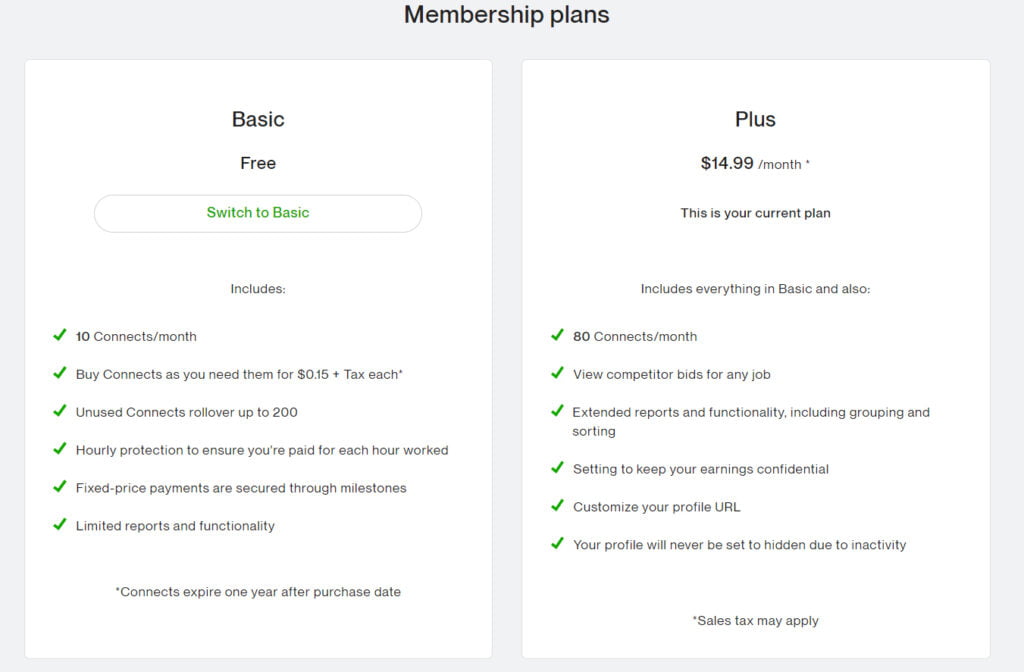 You will also find the details of this plan at this URL: https://www.upwork.com/nx/plans/membership/change-plan?from=index
Badges:
Upwork has four types of badges. Expert Vetted, Top Rated Plus, Top Rated & Rising Talent. Based on your successful job completion rate you will earn these badges. Similarly Fiverr also have 3 types of badges. Top Rated Sellers, Level Two Seller, Level One Seller. Apart from that Fiverr has Pro Verified, and FIVERR Choice seller badges are also available.
The above mention points are the very basic differences between Upwork and Fiverr. 
Also read: Top 9 web designing courses in Kolkata
Now coming to the main topic Upwork vs Fiverr which one is better to start freelancing?
Fiverr and Upwork nature is different. In Fiverr you have to create a GIG when your GIG will rank and if the seller thinks then he or she buys your GIG or services.
But in the case of Upwork, you have to BID or apply a different type of project.
Both platforms are very much competitive. There are lots of qualified sellers already available.
But you must know one thing if there is competition then there are opportunities for earning.
Here are some simple steps you can follow in Fiverr to get the order:
Do some SEO: If your GIG or service will rank on the first page of Fiverr against some keyword then the chance of getting the project is high.
Pro Tips: Update your GIG title, description, and image seo on an alternative day and see the GIG analytics daily.
Response Rate: If your response rate is high then it will rank higher than the GIG. If any client asks anything about your services and you reply to him within 1 hour then it will be treated as a good response rate.
Pro Tips: Install Fiverr apps on your mobile and be online.
Buyer's Request: Go through the buyer's request section and refresh the section within a short period.
Pro Tips: Refresh this section in the USA daytime.
Be Online: Be online on your Fiverr account mainly in the USA daytime. Refresh the account, and click the other tabs so that Fiverr realizes that you are online.
The other good option of earning from Fiverr is 'Refer a Friend' and selling Fiverr affiliates.
If you click on your profile icon then a dropdown menu will appear. Then you will find the 'Refer a Friend' menu. If you click on this you will see the below image:
Also at the bottom of the page, that means footer navigation you will find the affiliate tab. If you click on this tab it will redirect you to the new interface. You can also join this affiliate program and earn lots of amount from this.
These two features are not present in Upwork.
Now coming to the Upwork. Here are some simple tips for getting Upwork Project:
Be online: Be online in the USA daytime. When a project will post try to submit a bid proposal within 5 minutes. For this create some sample bid proposals, whenever a project will post, edit these proposals and post them immediately.
Offer a comprehensive price: Don't make it less and don't be too high, offer your client a comprehensive price. As you are new to Upwork, you have no rating or review so you have to consider the price.
Take Plus Membership if possible: Plus Membership plan has many benefits. It is also good exposure in Upwork. So if possible take Plus Membership plan. It will help you in bidding.
Boost Bid: If you are confident about any project or you have a little delay in submitting the bid proposal then boost the bid proposal. It will take more connection but it will place your proposal at the top of the list.
Final Words:
In this article, I have told the difference between Upwork & Fiverr, and how you can win projects from Upwork & Fiverr. If you are a new freelancer, if you only know 1 or 2 skills, if you are working alone then I think Fiverr is the best to start. You will get a small number of simple projects. If you continue the process then you will win big projects in near future. After a few years when you will get some permanent client source, when you will create a team then you will try Upwork.
That's it. Leave your comment in the comment section and tell me which platform is still best for you and why.