If you are thinking about changing your server to a cloud-based server then this article is for you. In this article, I am gonna tell you about an honest Cloudways review.
Now the question arises why I am telling you about Cloudways. Because from the past couple of years I am using this server now that is the right time when I am telling you about Cloudways review.
Among the many hosting provider companies cloudways is the perfect combination of affordability and great functionality.
When your business is scale-up when you get more visitors and you get some good amount of sales you may think to improve your website functionality.
The main thing about your website is how fast your website loads. Because of the slow loading website losses many visitors. But if you shift your hosting from any web hosting to cloud-based hosting then you must feel the difference in loading time.
Not only loading speed there are many other important aspects to consider when you choose cloud-based hosting solutions like Cloudways.
[maxbutton id="1″]
Now I am discussing the 'PROS' points one by one.
Fast Loading Server: The server launched by Cloudways has dedicated resources. So that compare to the shared hosting plan your website and apps load much faster than before.
Free SSL Certificate: Cloudways comes with free SSL certificates. The most interesting part is that it has no limitations to install the number of SSL.
24/7/365 Support: They have a very good support team available 24/7. First of all, they offer a knowledge base. If you do not get a proper answer just type 'human agent' then they will convert your call support agent according to availability.
Automated Backups: You can easily get a backup of your website or app. Either it is manually or the automatic way. You can also restore your backup with a single click. So there are no worries about data loss.
PHP 7.3 Ready Servers: As you know that PHP 7.3 is the latest version. Their server is riched with PHP 7.3 environment so that it will faster than the predecessor.
Here are the details about the 'CONS' points:
Domain registration not available: Cloudways do not have the facility to purchase any domain. You have to purchase the domain from any renowned domain provider and point this domain easily in this cloud server. Don't worry, there is a knowledge base regarding this. Apart from that their friendly support will surely help you.
No traditional Cpanel access: There is not traditional look Cpanel UI available on their server. This is a little bit tricky thing for the first-time user. But you can follow their knowledge base or get support help to properly configure your website.
Cloudways Review – Overview:
Cloudways was founded in the year 2009 by Mr. Uzair Gadit, Pere Hospital, and Mr. Aaqib Gadit. Right now their headquarter is in Malta in Europe. They have offices in Spain and Dubai. They have 8000+ user in 43 countries with 12,000+ servers, 25,000+ web apps.
Their core values include – innovation at heart, simplicity in everything, the customer always comes first, data have driven ideology, and win as a team.
Among the many hosting provider companies cloudways is the perfect combination of affordability and great functionality.
[maxbutton id="1″]
Cloudways Review – Products Overview:
The main three products which I want to highlights are given below –
Managed WordPress Hostings:
Cloudways serving the WordPress community since 2011. According to cloudways 600000+ WordPress sites hosted 120000 active users, 72+ net promoter score (NPS).
If you are a freelancer or self-employed you can easily install and configure WordPress in cloudways.
Not only that if you run an eCommerce website then easily connect with this reliable, powerful, and feature-rich platform to increase your website visitors and sales.
Cloudways are also designed in such a way so that any small and midsized business can easily set up their site in cloudways server.
Managed WooCommerce Hosting
Cloudways offer 10x speed woocommerce hosting with Ironclad security. Ironclad is another big name in website security.
Within a few clicks, any person with less technical knowledge can easily install a server to store launch within a few clicks.
The woocommerce store in cloudways has been designed with some latest tools and software so that users can get the best performance.
Team collaboration is another important feature in this hosting products.
Another important feature of this plan is pay-as-you-go plans. You can select an effective plan according to your need and easily switch between the plans.
Managed Magento Hosting
Hosting any Magento website is made simple by cloudways. Anyone can convert their eCommerce website to a fully functional Magento website. The migration is free right now.
The other features of Magento hostings are:
Deploy in a minute: Within few minutes the Magento server will deploy. You don't need any technical complexity.
Managed by Cloud Server: For this un-comparing cloud server, you can easily manage a huge product database by team handling.
Increase performance: Advanced cache features helps a lot to optimized your Magento stores.
Cloudways Review – Plans and Pricing
Cloudways managed 5 cloud servers. Here are the plans: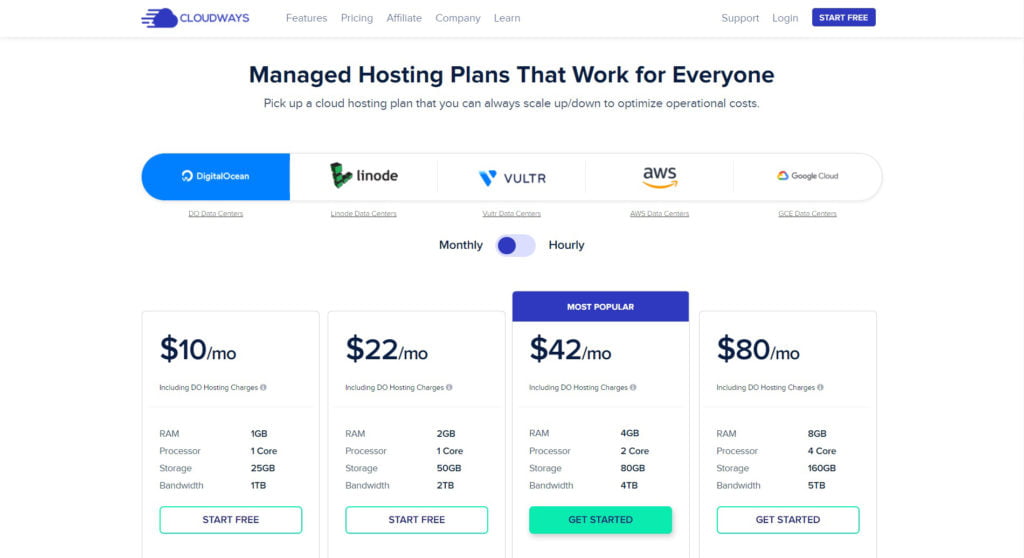 As you can see the 'Digital Ocean' is the cheapest cloud server plan on the list. For the startup purpose, you can go with Digital Ocean. The monthly cost is only $10. If you want to pay by hours $ 0.0139 /hr.
[maxbutton id="1″]
If you are running a heavy website you may go with the 'Google Cloud' server.
Now the question in your mind is that if all the above cloud servers can book from their website why should I use cloudways? The answer is in these servers you have to set up everything on your own. Cloudways will help you to implement the task within a few clicks and without any technical knowledge.
You can give Cloudways a free trial and take advantage of these 3 days. I hope you will never be disappointed and you will continue with it.
Also Read: Top 5 Best Hosting Provider
Conclusion: I do my best to provide you the latest information based on real-life experience about Cloudways review. Previously I am using Godaddy hosting but after using cloudways I feel very happy about their speed and support. So you can at least take the free trial period option and come to a conclusion whether it is bad for you or not.
Senior UX Designer and Google Certified Digital Marketer. Started my career as a full-time employee in different reputed companies and later established my own brand Bharati Technologies.