Every domain and industry has competition. Education is not an exception to this competition. If you plant to Promote Education Institute Online then read this article till the end…it will really help you a with some cost-effective methods.
Today in the era of digitalization every institute facing challenges to getting students.
In this article, I will give you some cost-effective methods to run the marketing for your education institute for more students.
Create Google My Business listing for Promote Education Institute Online:
Like many other businesses, you should create a Google My Business listing for your education institute. It is one best and free platforms to promote your institute locally. Here is the list of benefits that you should aware of it:
Google My Business is a free platform offered by Google itself.
It will increase visibility on Google map and Google search results.
It will help to earn trust from your customer.
Its review option helps you to create a brand promotion.
It will help you to increase sales and traffic.
Google My Business provides you a free website.
After reading the advantages if you want to create a free Google My Business listing then you must read this article: How to get the highest benefits from Google My Business in 2020
Create a Facebook Page another way of Promote Education Institute Online:
Promoting your business on social media platforms is one of the indispensable options today. The name Facebook comes first in your mind when you talking about popular social media platforms.
Like Google My Business, the Facebook page is also a free social media platform. Here are some benefits to create a Facebook Page:
It is a very cost-effective platform.
You can reach millions of potentials users.
Facebook can help to collect email list of users.
It will give you the leverage to target the audience by demography, interest, and locations.
Analysis of post and page reach by its insights. (Google My Business has the same features also)
It can create and establish your brand loyalty.
Increase your website traffic.
So don't waste your time just go create an effective Facebook page. Post in some regular intervals.
If you want to know more details of Facebook marketing then search on Google. There are thousands of free blogs, tutorials available.
Also read: How to Create a Facebook Business Page in 7 Easy Steps
Create Instagram Business Profile:
Instagram is another popular marketing platform. Instagram has one billion active monthly users and publishes 500 million daily monthly Instagram story.
So Instagram is not only used for personal needs, it is used for commercial intent also.
If you create and optimize your Instagram profile effectively you will get a good amount of traffic.
Here are the benefits of using Instagram:
Like above it is also free to use platforms.
Every day more consumers and businesses join Instagram.
It is very easy to target or retarget an audience.
Use all visual marketing features on Instagram.
If you create user-generated content then it will best for your business.
Create YouTube Channel:
We know that the importance of video content is increasing day by day.
So create a youtube channel is another great source of traffic.
Create a youtube channel with your institute name and logo.
Upload some free tutorials related to the course you provide.
Also, maintain a regular calendar for the video uploading.
Here are the benefits of youtube marketing:
You can reach a global audience.
You can increase your seo rank in Google search engines.
It is free to use.
If you produce quality content in your video you will gain more subscribers.
These are just the basic approaches. Apart from that, it involves some marketing techniques also.
But producing quality content is the last word.
Create a Website – Another Important part of Promote Education Institute Online:
Today most of the business has a website. Website is a set of pages were filled with some data related to some business activities.
There are two types of websites, one is a free version and another one is paid version.
Here is some common name of the free version of the website:
Blogspot.com
WordPress.com
Wix.com
Weebly.com
If you can create a free version of your company website by using the above sites. But like many other things it has some advantages and disadvantages also.
Disadvantages of using a free website:
There is no domain name.
You cannot rank these sites with all SEO parameters.
The owner of this free site has a right to terminate your site at any time.
There are restrictions for uploading content. Like Google sites or Blogspot has 15GB spaces for files.
In spite of that if you are a newbie then create a free website, after few months convert your website into paid version of the site.
Here are some steps on how you can create a paid website:
Purchase a Domain Name – The domain name is like your business address. You can purchase a website domain name from any renowned domain name provider. I personally suggest Godaddy.com for this.
Purchase a Hosting Plan – Hosting is like an almirah where you put all your important articles. You can buy hosting from any hosting provider. I personally recommend cloudways.com for this.
Use any good CMS Platforms – CMS full form is 'Content Management System'. After purchasing the domain and hosting you need to build a website with some web-friendly architecture. So you need a cms platform. If you are a newbie you can use WordPress for this.
Do some SEO – If your business in online platforms you need to see this in Google or any other search engines. For this purpose, you need to do some 'Search Engine Optimization'. So that your business is visible on search engines with some specific key terms.
I hope now you can easily understand the difference between the free and paid version of the website.
But if you are a small startup then it is always not possible to get a paid website. For this, you may proceed with some free options mention above.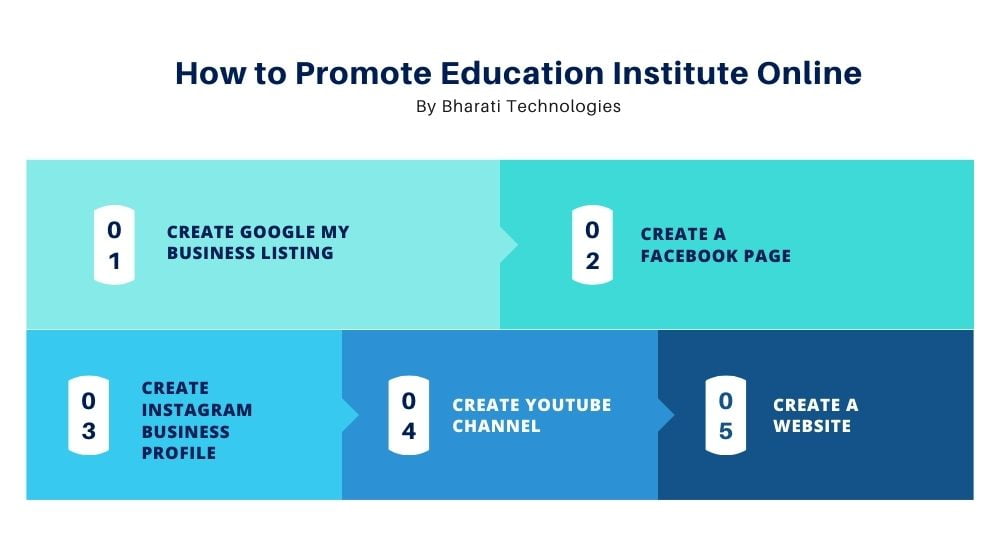 Conclusion: I write this article to help the small startup entrepreneur in an education institute. The above mention steps are very cost-effective for any startup business. If you want to improve your knowledge regarding the above steps then there are lots of articles are available online. So move with the above steps and see your exponential growth within few months.